Working Group Co-Chaired by:
This Working Group on Digitalization Scorecard will address 'the policy and regulatory fit' for vertical sectors to digitalize, especially beyond the traditional telecom environment. The work on a new scorecard will include analyzing key sector specific policy/regulatory barriers and accelerators to digitalization for selected verticals (health, transportation, energy, etc. ) in different countries.
Objectives of the Group:

To present the digitalization readiness of a country, complementary to existing 'connectivity' indexes. 

To examine vertical sectors' digitalization readiness, by analyzing sectors' 'incumbent' policies and regulations.

To produce recommendations how to improve vertical sectors' policies and regulations to accelerate digitalization.
Launch of the Working Group on Digitalization Scorecard Report​:
On the 5th of June 2017, the Broadband Commission Working Group on Digitalization Scorecard launched its final report "Which policies and regulations can help advance digitalization". The publication's release in Espoo, Finland coincided with the visit of the Broadband Commission's Co-Vice Chair, Mr Houlin Zhao to the Nokia's HQ.
​​​​​​​​​The group was announced in March 2016 at the Spring meeting of the Commission in Dubai.

The group had​ an onsite meeting at the Broadband Commission Spring meeting 2017 held in Hong Kong SAR of China on 15th March.​

The group launched its final report in Finland on June 5th 2017
WSIS Forum 2017 - Digitalization Scorecard: Advancing Digitalization of Verticals with Enabling Policies and Regulations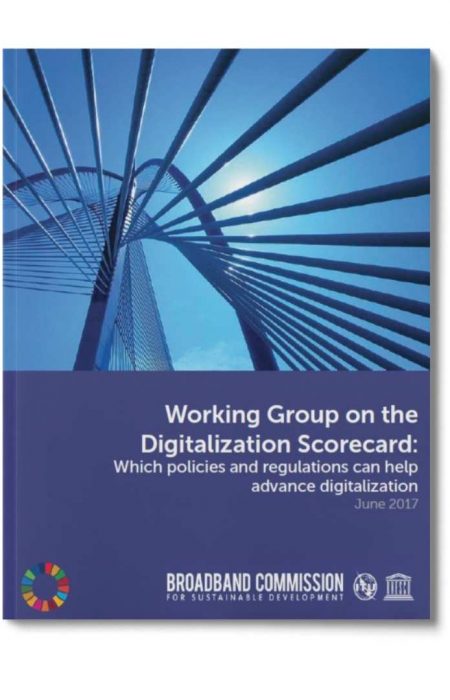 Which policies and regulations can help advance digitalization
The report focuses on assessing policy and regulatory readiness for digitalization of six chosen countries. Digitalization is a universal trend but countries still have work to do to ensure policy and regulatory frameworks across sectors are 'fit for purpose'.
The six countries chosen represent a sample cross-section in terms of income, geography and population size. Together, the analysis sets out how each country is performing when it comes to policies and regulations to foster or limit digitalization. In addition to country-specific assessments, the study outlines sector-specific policy recommendations as well as six overall recommendations for governments and policymakers to guide countries as they embark and progress on their digitalization journey:
Clear designation of a body responsible for digitalization interdepartmental collaboration
Policy frameworks can enable responsible data sharing
Public funding can kick-start digitalization
National strategies provide clarity of vision on digitalization's critical elements
Education and awareness raising are critical to implement digitalization policies
There is no room for complacency in driving digitalization
Nokia
ITU
Mr Leong Keng Thai, IMDA Singapore
Dato Lee Yee Cheong
Ms. Anusha Rahman Khan, Minister of State for Information Technology and Telecommunication, Government of Pakistan
Federal Office of Communications OFCOM, Switzerland
GSMA
European Commission
Microsoft
IADB
Zain
UN Women
Korea Telecom
Ericsson
VEON
Dr Speranza Ndege
Inmarsat
Baroness Kidron
Facebook
WIPO
Bharti
Intel​