Working Group on the
Gender Digital Divide
How can we bridge the gender digital divide?
The Broadband Commission Working Group on the Digital Gender Divide was launched to further the work of the 2013 Working Group on Broadband and Gender, by helping to reduce the gender gap in Internet and broadband access and use. Co-Chaired by Mr. Mats Granryd, Director General of GSMA, and Ms. Irina Bokova, Director-General of UNESCO, the Commission's 2017 Working Group on the Digital Gender Divide brought Commissioners and experts together to address barriers to women's access and use of the Internet from a multistakeholder perspective.
The Global Gender Digital Divide
According to the ITU, between 2013 and 2016 the global Internet user gender gap grew from 11% to 12%. A widening digital gender gap has significant implications in terms of women's empowerment and development as well as for societies, businesses and economies.
As a result, effective, tangible and measurable action is now essential and urgently needed from a wide range of different stakeholders to overcome the digital gender gap in access to ensure that women can also benefit from the developmental capacity of information and communication technologies (ICTs).
Conclusions and Recommendations
The barriers preventing women from accessing and using the Internet are complex, varied, diverse, and interrelated. The Working Group's 2017 report, titled Recommendations for action bridging the gender gap in internet and broadband access and use, uses relevant data on the digital gender gap to determine a baseline of the gender digital divide landscape before setting out actionable recommendations for to close the divide. These recommendations help clarify the complementary roles of different actors, including governments and policymakers, the private sector, inter-governmental organizations, NGOs, and academia and research institutions as the Working Group believes that the digital gender divide can only be bridged effectively by coordinated actions.
Targeted action by a range of stakeholders is required to address the gender gap in Internet access and use. This report sets out recommended actions that stakeholders should take to help deliver on internationally agreed goals and commitments which aim to bridge gender digital divides and to support sustainable development.
Key Recommendations for Action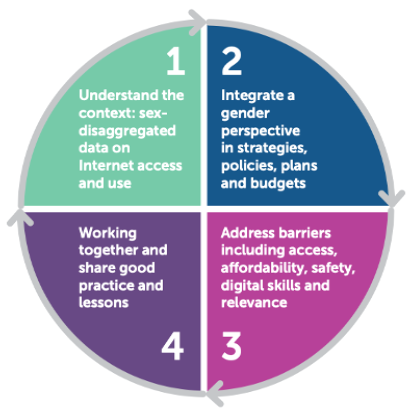 The recommendations in this
Report, which are the outcomes of a collaborative and multi-stakeholder process, relate primarily to overcoming the barriers women face when accessing and using the Internet and broadband.
The following recommended actions fall into the four groups pictured here and are outlined below.
Composition and Activities
Co-Chairs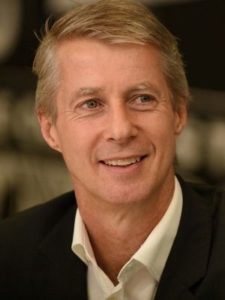 Mr. Mats Granryd
Director General, GSMA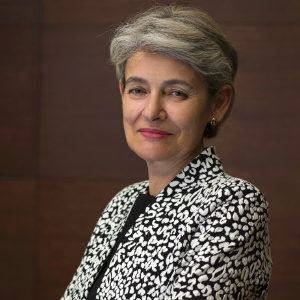 Ms. Irina Bokova
Director General, UNESCO
Commissioners
External Experts
The Broadband Commission Working Group on the Digital Gender Divide was established in March 2016 in Dubai, UAE. On 15th March 2017, the Working Group launched its report "Recommendations for action: bridging the gender gap in Internet and broadband access and use" during the Annual Spring Meeting of the Broadband Commission, held in Hong Kong, SAR of China.
Mr. Mats Granryd


Director General, GSMA
&
Ms. Irina Bokova


Director General, UNESCO
Broadband Advocacy Targets