2025 Broadband Advocacy Target 4
PROMOTE DIGITAL SKILLS DEVELOPMENT
By 2025, 60% of youth and adults should have achieved at least a minimum level of proficiency in sustainable digital skills
Absence of media, information, and digital literacy/competencies is one of the main causes of digital exclusion, misuse and underuse of digital technologies, and often among the top answers when people are surveyed about why they do not use the Internet and challenges when they use the internet.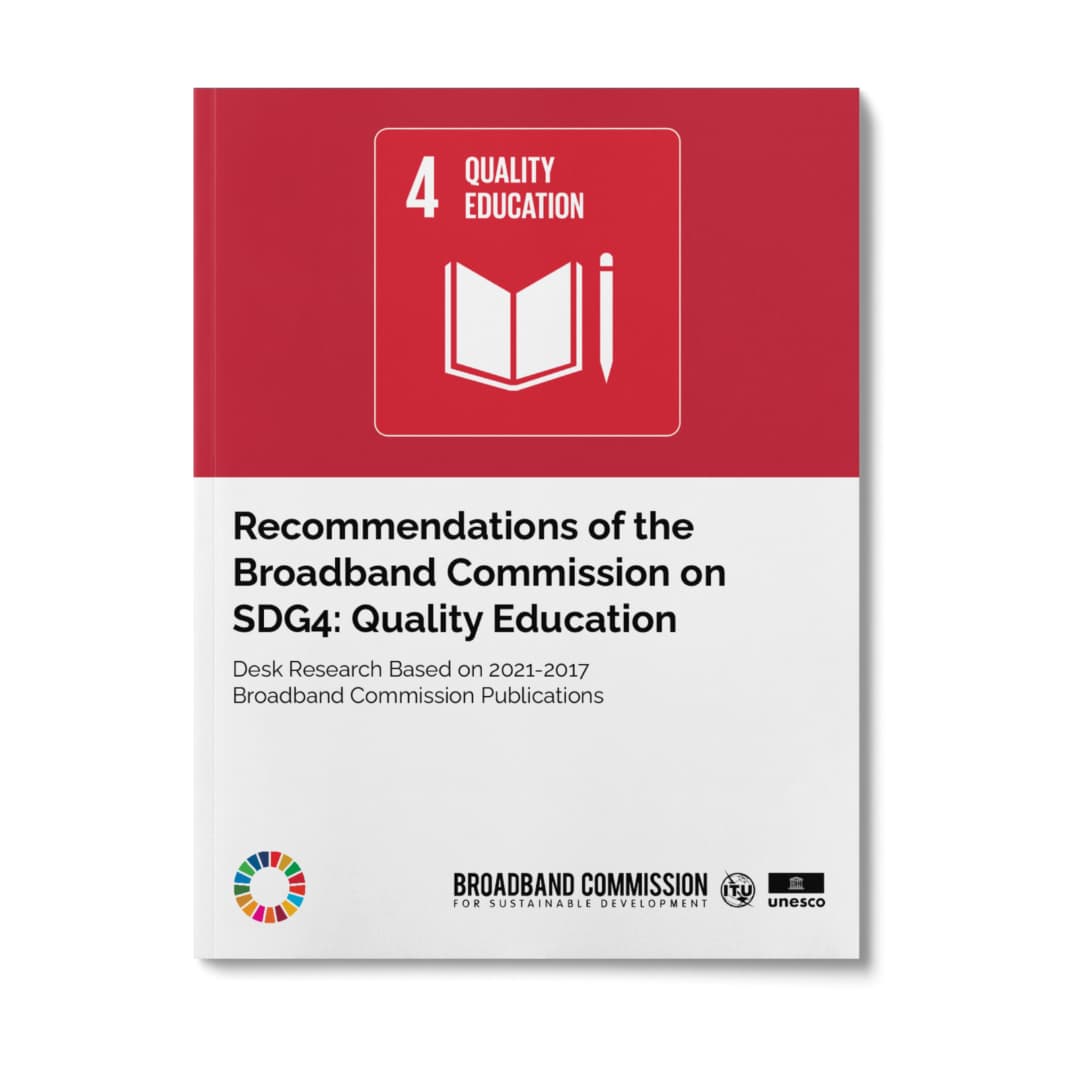 Explore our comprehensive compilation of policy recommendations for advancing SDG4: Quality education, focusing on the Broadband Commission's mission to advance digital skills worldwide.
Digital transformation has become one of the highest priorities for public organizations worldwide. Although governments are increasingly digitizing their services in response to growing public expectations, they are asked to do more to create an enabling environment in which a sustainable and equitable digital transformation strengthens economies and societies.
However, governments need to invest in data collection – this is an important goal, but data is difficult to collect, and the definitions of digital skills continues to shift rapidly, making data collection even more challenging. About 90% of countries aspire to develop digital skills, and 54% have established digital skills standards according to the 2023 Global Education Monitoring Report. As self-reporting of individuals' ICT skills may be subjective, the ITU has measured ICT skills based on whether an individual has recently performed certain activities that require different types of skill, with the assumption that performing these activities implies that one has a certain level of five categories of digital skills: communication/ collaboration; problem solving; safety; content creation; and information/data literacy.
Similarly, definitions were also shifting over time for media and information literacy as an interrelated and complementary set of information, digital and media competencies to those of digital skills. However, the harmonized approach put forward by UNESCO is taking traction. All Member States of the United Nations have recognized the importance of citizens acquiring media and information literacy and digital skills.
According to the latest available data from the ITU (self-reported), the relatively low level of digital skills in the 74 countries providing data contrasts against their high share of overall Internet use – 86 per cent, whereas over the five categories of digital skills –  communication/ collaboration; problem solving; safety; content creation; and information/data literacy, 47 countries reported averages of at least 25 per cent in multiple areas, 22 reported averages of over 50 per cent in multiple areas and only five reported averages of over 75 per cent in multiple areas. This gap between individuals using the Internet and those with digital skills demonstrates that many people may be using the Internet without being able to fully benefit from it or avoid its dangers.
Transformative risks and opportunities
Definitional challenges of measuring "digital skills"; multiple definitions exist
Challenges persist with regards to the data availability and interpretation of this indicator, which limit how interpretations about global digital literacy can be made. There are documented gaps in government basic facts and figures on young children's access to and use of technology in LMICs. In addition, digital skills' definitions constantly evolve. About 90% of countries aspire to develop digital skills, and 54% have established digital skills standards according to the 2023 UNESCO Global Education Monitoring (GEM) Report.
This is reflected in the ITU survey, to which only 78 provided data. Another challenge may be the indicator's complexity, as a broad range of skills is measured, which complicates assembling the results into one figure. Instead of averaging these figures, the approach UNICEF adopted another approach using Multiple Indicator Cluster Surveys, in which one activity was chosen as a proxy indicator.
In addition to definitional challenges, there are also policy challenges to addressing digital skills development. A lack of awareness, digital skills, as well as reliable data to steer policy interventions, is preventing individuals from participating fully online. The GSMA's report on digital skills in low-and-middle income countries puts forward several recommendations for promoting digital skills including investing in training and capacity building initiatives that cover a broad range of competencies, and focusing digital skills strategies on use cases that help targeted user segments meet their life goals and needs.
For governments to effectively address the challenges of digital transformation and its governance, the public sector also needs to develop new competencies and policies, including through the AI and Digital Transformation Competency Framework developed by the Broadband Commission in 2022, under the leadership of UNESCO and Nokia.
In addition, countries need to invest more in prioritizing other competencies relevant to media and information literacy and digital competencies that enables critical thinking, civic participation, and their resilience to disinformation. The UNESCO Global Standards for Media and Information Literacy Curricula Development Guidelines offer approaches for harmonizing media and information literacy and digital skills.
"Computer use" as flawed indicator
One activity to estimate and interpret digital skills is computer use. Many digital skills involve the use of a computer (e.g., moving files, using office applications, etc.) and the level of expertise required is higher than using apps on a smartphone. There is also a strong correlation between using one of the digital skills (defined above) and computer use. Globally, 54 per cent of individuals used a computer, according to the latest available data. However, there are wide differences by income and region. In high-income nations, 79 per cent of the population used a computer in the last three months compared to just 7 per cent of the population in low-income countries.
Lack of skilled instructors
An individual's digital skills are strongly influenced by their access to and guidance from digitally literate instructors. As such, digital literacy has a strong socially dependent dimension, as human intervention has been shown² to address digital literacy over access to digital technology alone, or the simplification to a question of "have-or-have-not." The 2023 UNESCO Global Education Monitoring (GEM) Report has noted that it will be costly for education systems to develop the necessary conditions, including training educators, to keep up with a pace of change that well exceeds what education systems are used to: curricular reforms are estimated to take place every 10 years on average. The report also noted that in the 2018 OECD Teaching and Learning International Survey (TALIS), only 56% of lower secondary school  teachers in the 48 participating education systems had received training in the use of ICT as part of their formal education or training, ranging from 37% in Sweden to 97% in Viet Nam. Meanwhile, only 60% of teachers had received training in the use of ICT as part of their in-service training in the 12 months prior to the survey, ranging from 40% in Belgium to 93% in Viet Nam.
Young and "digital native" may not necessarily equate to digital literacy nor labour/productivity skills
Age, too, is not an accurate predictor of digital skills, and the concept of the young "digital native" has been debunked in numerous studies. A study of the level of digital skills of first-year University Students by ICDL Europe across a number of countries including Denmark, Finland, Germany, Finland, India, and Singapore, showed that youth do not automatically have the required and sufficient skills to enter the labour market, even if they count as among one of the most connected groups. Young people in particular may lack productivity skills such as working with spreadsheets, word processing and presentation software. There is no guarantee that frequency of computer use in young people correlates with the development of productive, work or education-related digital skills (rather than to play a computer game or scroll through social media). A study by ICDL compares self-assessment with actual digital test results and shows that "digital skills" among youth are much below their perception, highlighting that many young people still lack the productivity skills needed for their studies and future work , and that the validity and rigor of self-reporting digital skills are often in doubt.
Digital literacy does not equate to data literacy
Further, digital literacy does not, by default, determine data literacy.
Digital literacy is the ability to access, manage, understand, integrate, communicate, evaluate and create information safely and appropriately through digital technologies for employment, decent jobs and entrepreneurship.[1]
Data literacy is the ability to read, write and communicate data in context, including an understanding of data sources and constructs, analytical methods and techniques applied, and the ability to describe the use-case application and resulting value.[2]
Media and information literacy is an interrelated set of information, digital and media competencies that help people to maximize advantages and minimize harm in the new information, digital and communication landscapes. Media and information literacy covers competencies that enable people to critically and effectively engage with information, other forms of content, the institutions that facilitate information and diverse types of content, and the discerning use of digital technologies. It takes into consideration, the informational, digital, data media, and social cardinals of the benefits and challenges in digital transformation processes.  It draws on the continuum of data-information-knowledge-innovation and wisdom. 
This returns us to the challenge of defining "digital skills" through the lenses of digital and data literacy alone, bringing to the fore questions around the user ability to use information, media, and digital skills to both protect themselves online, as well as maximise the opportunities ICT provides to them, in education and jobs and other aspects of life.
Media, Information and Digital literacy, Online Safety, and Misinformation
The questions of critical civil engagement, privacy and discernment when navigating the Internet remain closely related concepts. It is necessary then that media and information literacy be taught in addition to skills that support productive use of technologies. Media and information literacy is a significant area, championed by UNESCO and numerous stakeholders around the world. In a digital era plagued by complex interactions that feed misinformation, disinformation, polarization, hate speech and other types of online violence, it is vital to strengthen citizens' capacities to access, search for, critically assess, use and contribute to information and media content, both online and offline; and to improve their understanding of evolving communication technologies, the modalities by which these are governed, developed and used, as well as digital rights.
This is all encompassed by media and information literacy, which is an essential characteristic of an informed, resilient and empowered society in the digital age. Advancing media and information literacy for all will be crucial to complement initiatives to address issues such as disinformation and online hate speech, and build long-term sustainable solutions to such challenges. While the advancements of modern technology make a trade-off between security and freedom online which is difficult to define, regulate and adjudicate locally and internationally, individuals should be empowered to discern trustworthy and safe information and understand the workings of the information ecosystem and the major players that govern it. Only then can they help mitigate the undesired consequences of insufficient regulation or self-regulation measures aimed at improving the transparency of the operations of Internet companies. In this regard, it is worth mentioning UNESCO's guidelines for a multistakeholder approach in the context of regulating digital platforms.
At the same time, the ability to access accurate information online which represent different points of view, read through the lens of information literacy is indispensable if people are to have the ability to express themselves freely and be protected from reprisal, and understand international standards that should inform the development and use of ICTs.
Broadband Commission Working Group on Data for Learning 2023 - Chaired by UNESCO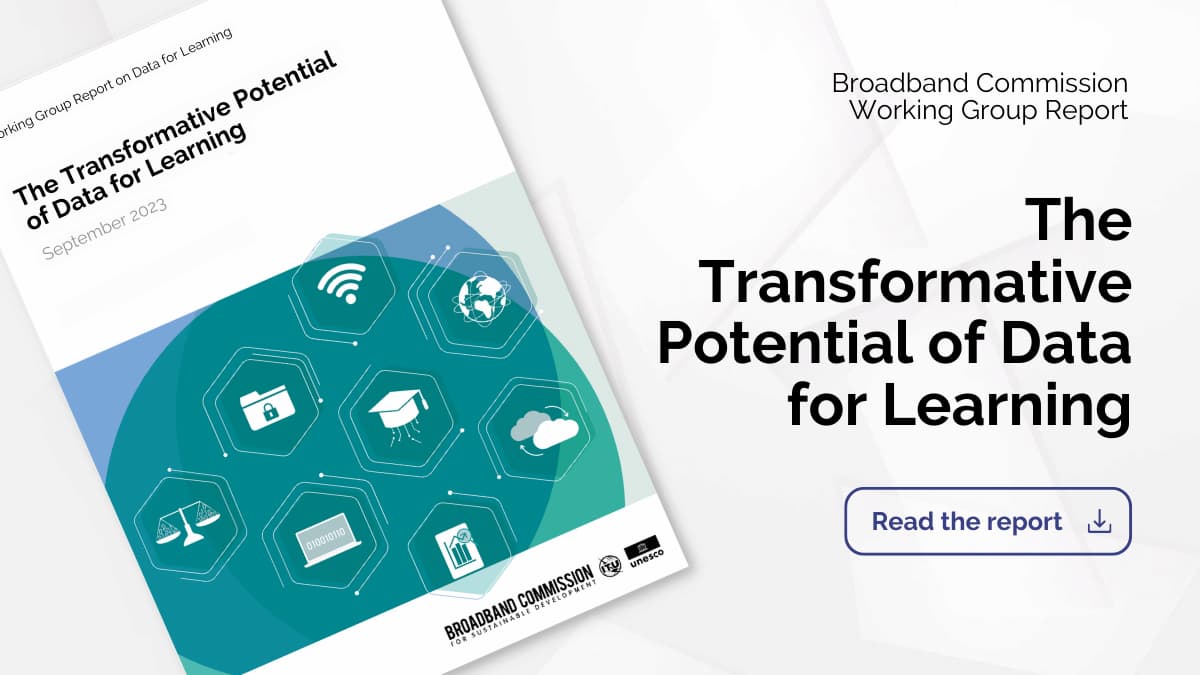 For the past two years, the UNESCO-chaired Data for Learning working group has met in monthly meetings to discuss the question: How can we harness the potential of data to drive the safe, inclusive, and equitable transformation of education? The discussions broke down the broad theme of education data into 3 dimensions: infrastructure, capacities, and governance.
The report takes the position that data for learning is a double-edged sword that hangs in a balance between benefits and risks. The potential power of leveraging data to improve learning is unevenly distributed around the world, resulting in global asymmetries related to data access, skills, and sovereignty. Overall, this asymmetrical data landscape has led the dialogue about education data to become polarized rather than inclusive and constructive.
The Working Group on Data for Learning brings these varied perspectives together to build sustainable multistakeholder partnerships that advance impactful and ethical applications of education data that benefit all learners. Drawing from nearly two years of discussions, the Working Group report "The Transformative Potential of Data for Learning" and its accompanying "Job Board for Education Data Governance and Management" are global public goods that contribute to our common understanding of how to balance the opportunities and risks of data use in education.