2025 Broadband Advocacy Target 4
PROMOTE DIGITAL SKILLS DEVELOPMENT
By 2025, 60% of youth and adults should have achieved at least a minimum level of proficiency in sustainable digital skills
Digital literacy is one of the main causes of digital exclusion and often among the top answers when people are surveyed about why they do not use the Internet. According to the latest available data from the ITU, the relatively low level of skills in countries providing data contrasts against their high share of overall Internet use – 86 percent. This gap between individuals using the Internet and those with digital skills demonstrates that many may be using the Internet without being able to fully benefit from it or avoid its dangers.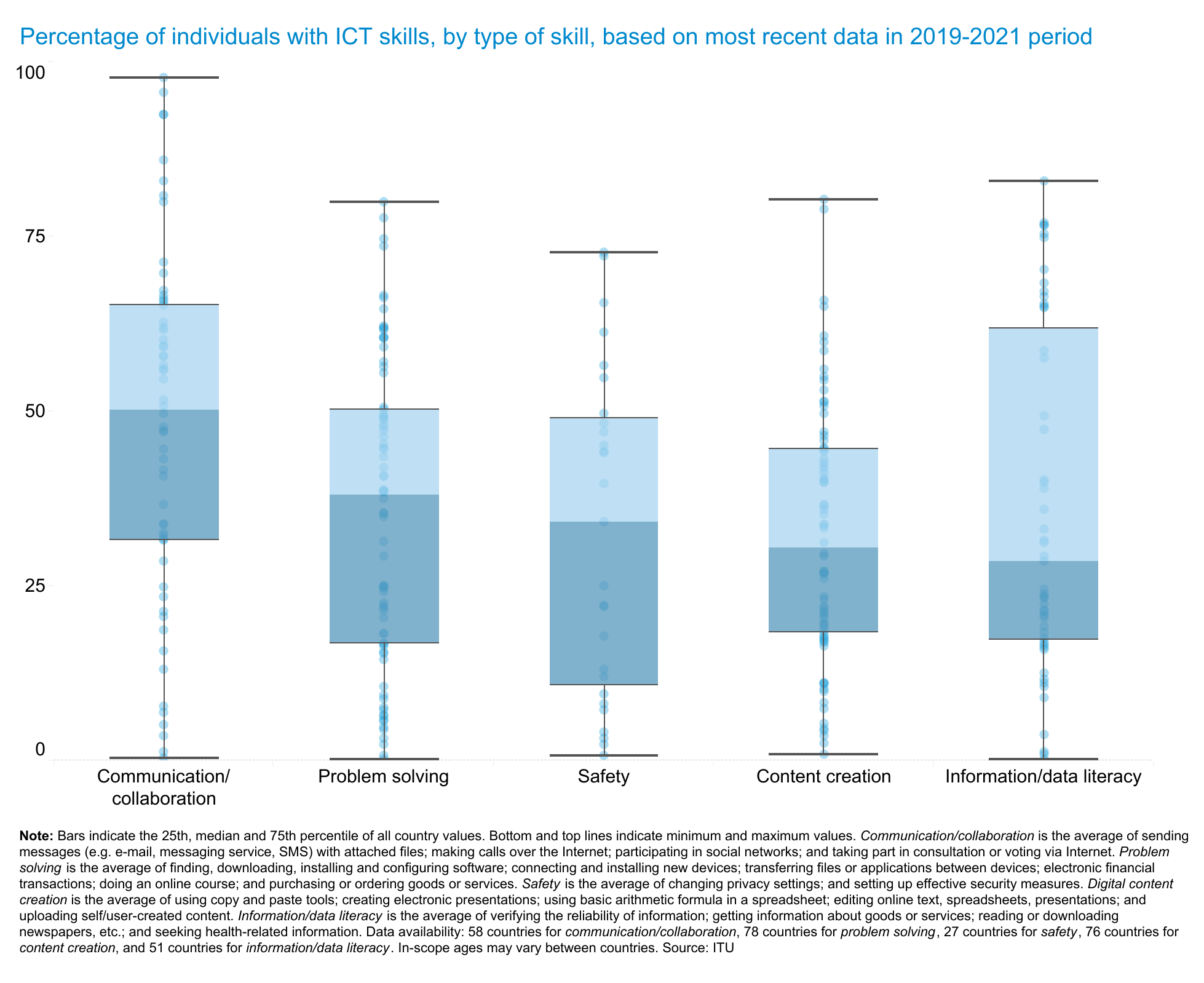 There are challenges with the coverage and interpretation of this indicator, which implicate the rigour with which claims about global digital literacy can be made. There is a documented gap¹ in government basic facts and figures on young children's access to and use of technology in LMICs.
This is reflected in the ITU survey, to which only 88 mainly high-income countries provided data. Another challenge may be the indicator complexity, as a broad range of skills is measured, which complicates assembling the results into one figure. Instead of averaging these figures, the approach UNICEF adopted for its Multiple Indicator Cluster Surveys, in which one activity was chosen as a proxy indicator, is another approach.
One such activity to estimate and interpret digital skills is computer use. Many digital skills involve the use of computer (e.g. moving files, using office applications, etc.) and the level of expertise required is higher than using apps on a smartphone. There is also a strong correlation between using one of the digital skills and computer use. Globally, 54 per cent of individuals used a computer according to the latest available data. There are wide differences by income and region. In high-income nations, 79 per cent of the population used a computer in the last three months compared to just 7 per cent in low-income countries.
One's digital skills are strongly influenced by one's access to and guidance from digitally literate instructors. As such, digital literacy has a strong socially dependent dimension, as human intervention has been shown² to address digital literacy over access to digital technology alone, or the simplification to a question of "have-or-have-not."
Age, too, is not an accurate predictor of digital skills, as the concept of the young "digital native" has been debunked in numerous studies. A study of level of digital skills of first-year University Students by ICDL Europe across a number of countries including Singapore, Denmark, Germany, Finland and India has shown that youth do not automatically have the required and sufficient skills to enter the labour market, even if they count as one of the most connected groups. Young people particularly lack productivity skills such as working with spreadsheets, word processing and presentation software. There is no guarantee that frequency of computer use in young people correlates with the development of productive, work or education-related digital skills rather than to play a computer game or scroll through social media. A study by ICDL compares self-assessment with actual digital test results and shows that "digital skills" among youth are much below their perception, highlighting that the productivity skills that young people need for their studies and future work remain poor, and that the validity and rigor of self-reporting digital skills is in question.
Further, digital literacy does not, by default, determine data literacy. The question of privacy and security when navigating the Internet remains a related but distinct concept, and such skills regarding personal protection when using digital technology should be taught in addition to skills that support productive use of technologies. Similarly, media and information literacy is a related but significant area, championed by UNESCO and numerous stakeholders around the world. In a digital era plagued by complex interactions that feed misinformation, disinformation, polarization, hate speech and other types of online violence, it becomes necessary to strengthen citizens' capacities to access, search for, critically assess, use and contribute to information and media content, both online and offline; and to improve their understanding of evolving communication technologies, the modalities by which these are governed, developed and used, as well as digital rights.
This is all encompassed by media and information literacy, which therein becomes a sine qua non of an informed, resilient and empowered society in the digital age. Advancing media and information literacy for all will be necessary to complement initiatives to address disinformation, avoid shutdowns of the Internet, and build long-term sustainable solutions to such challenges. If individuals are empowered to discern trustworthy and safe information and understand the workings of the information ecosystem and the major players that govern it, it can help mitigate the undesired consequences of insufficient regulation or self-regulation measures aimed at improving the transparency of the operations of Internet companies. At the same time, rights-based media and information literacy is indispensable if people are to cherish and defend freedom of expression and privacy and understand international standards that should inform the development and use of ICTs.
Livingstone et al. 2019. The Routledge Handbook of Digital Literacies in Early Childhood, pp.79-92.
Eynon and A. Geniets. 2016. "The digital skills paradox: how do digitally excluded youth develop skills to use the internet?". Learning, Media and Technology, 41(3), pp. 463-479