Working Group Co-Chaired by:
Objectives of the Group:

Within the framework of the Broadband Commission for Sustainable Development and its Working Group on Freedom of Expression and addressing Disinformation, UNESCO's Communication and Information Sector (CI) launched a new Request   For  Proposals (RFP).
The initiative encouraged researchers to put in proposals to conduct a research report on the various efforts being taken around the world to counter the abuse of broadband for the dissemination of what diverse actors may define as disinformation. 
The research analysed the different modalities of responses based on empirical data from all parts of the world, with the findings presented mainly at a level of generality which extrapolates key trends. 
Overall, the research sought to provide insights that can stimulate creativity and innovation in tackling problems in broadband use while reinforcing freedom of expression and sustainable development, as well as help set agendas for future research. 
The study also aimed to provide useful resources for stakeholders including governments, courts, regulators, educators, companies, academia, media, civil society organizations and others. 
To this end, the research included a "gap analysis" through reviewing studies, surveys, and other research about this phenomenon. It should give an assessment of the different modalities of response to disinformation, at a general level, and in    terms of the costs, benefits and risks of each modality from the point of view of freedom of expression and ICT contribution to sustainable development.  Based on this, the study should recommend proposals for the way ahead.
 The framing of this project was founded on the universal right to freedom of expression, and the importance of ensuring that measures concerning disinformation do not impact negatively on the essence of this right.
The Group was lau​nched in April 2019 during the Broadband Commission's Annual Spring Meeting. ​​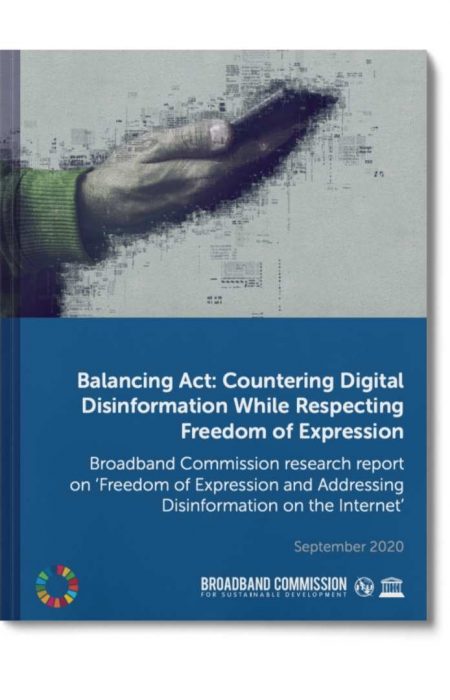 Countering Digital Disinformation While Respecting Freedom of Expression
In today's troubling times, the flood of false and misleading content is exactly what the world does not need. However, as this report shows, by working together, we can defend reliable, highquality information while advancing freedom of expression. This document is a case in point for the 'digital co-operation' advocated by the United Nations Secretary-General. We therefore encourage Commissioners and other stakeholders to make full use this report. Together, we can help ensure that broadband for sustainable development achieves its full potential.
 Co-Chairs: UNESCO an Dr Hessa Al Jaber, Qatar Es'hailSat
​Bocar Ba, SAMENA
Piotr Dmochowski-Lipski, EUTELSAT IGO
Ramin Guluzade, Republic of Azerbaijan
Carlos Manuel Uribe, America Movíl
Beeban Kidron, 5Rights Foundation
Robert Kirkpatrick, UN Global Pulse
Dato'Lee Yee Cheong, ISTIC
Adrian Lovett, Web Foundation
Paul Mitchell, Microsoft
Patrick Nyirishema, Focal Point Rwanda, RURA
Joanna Rubinstein, World Childhood Foundation
Ac​him Steiner, UNDP
Fabrizio Benevenuto, Federal University of Minas Gerais
Divina Frau-Meigs, University of Sorbonne Nouvelle, Paris 3
Cherian George, Hong Kong Baptist University
Claire Wardle, First draft​
Herman Wasserman, University of Cape Town​​