Working Group on
Financing and Investment
How can we create a favorable environment for attracting investment in broadband infrastructure?
Broadband is a crucial means to finding transformative solutions to achieve development goals, by virtue of its potential to bring about change in almost every act of production and consumption. As such, it is vital that appropriate general steps are taken to encourage investment in broadband networks as well as specific interventions which have a positive impact in broadband investment.     
Chaired by Mr. Luis Alberto Moreno, President of IDB, the Broadband Commission for Sustainable Development's 2014 Working Group on Financing and Investment sought to provide practical and helpful advice on the range of possibilities available for how to make best use of scarce resources (especially, public capital and spectrum) to encourage investment in broadband.

Broadband Financing Is Challenging but Increasingly Necessary
Financing and deployment of broadband have proven to be challenging, due to a combination of factors that make developing broadband in remote locations or locations facing the highest vulnerability to environmental and economic factors less attractive for private investors. In 2014, it was estimated that over about 10 trillion US dollars will be needed to fund global telecommunications infrastructure investments up to 2030 (out of a total of an overall 62 trillion needed for infrastructure in general). 
Prior to 2014, nations around the world had already acknowledged the ongoing Digital Economy Transformation, which marked the widespread adoption of digital technology to transform services and businesses. Broadband infrastructure had emerged as the true backbone of this Digital Economy. As such, governments from around the world had introduced broadband in their economic development agendas as a flagship element to ensure that their citizens were digitally included (providing them with the same digital opportunities); and therefore, bridging existing social gaps.
Conclusions and Recommendations
Through its outcome Report, Creating a Favorable Environment for Attracting Finance and Investment in Broadband Infrastructure, the Broadband Commission's Working Group on Financing and Investment sought to identify actions, policies and regulatory approaches which would enhance cooperation between market players and public authorities to encourage financing and investment in broadband.
This 2014 report provides an in-depth analysis of strategies for gaining access to capital for broadband development plans; asserts how to create the right telecoms regulatory environment for private investment; explores taxes and spectrum charges to the government by mobile operators; and provides a selection of case studies to explore successful use of financial intervention tools. The report concludes with a cohort of conclusions for governments and policymakers to consider as they develop national broadband financing strategies. 
The measures identified in the Working Group's Report are primarily designed to promote private investment, thus permitting public capital efficiently to be deployed to meet the needs of disadvantaged groups and those in remote areas — where funding from private investors is harder to attract, but where the need for connectivity is at least as great.
Throughout this Report, the Working Group sought to identify actions and policies that would encourage that cooperation and attract finance and investment in broadband. There is no 'silver bullet' or single action which can accomplish the task of mobilizing capital for broadband. However, the Working Group on Financing and Investment identified four actions essential prerequisites to unlocking the potential of broadband to solve key development challenges.
The recommendations are grouped under the following areas of action: 
Composition and Activities
Chair
Commissioners and External Experts
Chair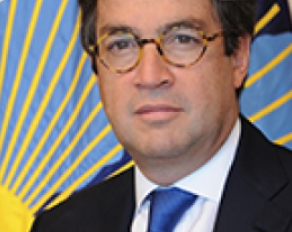 Mr. Louis Alberto Moreno 
President, IDB
Commissioners and External Experts
Working Group held several conference calls and onsite meetings.
Mr. Louis Alberto Moreno
President, IDB
Broadband Advocacy Targets