Working Group on
Data for Learning
How can we use data in education for good?
The Broadband Commission Working Group on Data for Learning was organized to advise on challenges and opportunities related to: (i) Data infrastructure and ecosystems; (ii) Data skills and competence framework for life and work; (iii) Ethic, governance, national sovereignty and cross-border data flow regulation. The aim is to benefit from the unique composition of the Commission and its expertise and perspective of the top and key players in the technology industry, policymakers and IGOs and to engage with all relevant stakeholders and sharing knowledge about other existing resources and initiatives.
Chaired by Ms. Audrey Azoulay, Director-General of UNESCO, the Working Group was launched during the virtual Broadband Commission Annual Fall Meeting in September 2021. Stay tuned for the release of the full outcome report.
The growth of data, their socio-economic implications and their integration in the lives and work of most people everywhere is spurring the data revolution. Industry 4.0 is transforming manufacturing industry into a new paradigm in particular regarding data ecosystems and potential and given rise to new information industries (e.g. cloud computing, 3D printing or the Internet of Things), changed how services are produced and delivered and even affected agriculture and farming. Social sectors such as education, health and social security are following suit.
However, the usage of data in education is a double-edged sword.
On one hand, the use of data offers tremendous potential to create value by improving policies and programs, driving transparent governance and better management of education systems, teachers' empowerment, personalized learning experience, assessment, and certifications. On the other hand, data in education may be misused in ways that harm learners. This concerns learners' data protection and security, learners' data transfer and sharing, and the sharp increases in the amount of personal information gathered by tech and ed-tech businesses. The gaps in learners' data protection and security are part of the broader digital divide.
Audrey Azoulay
Director General, UNESCO and
Co-Vice Chair of the Broadband Commission
Broadband Advocacy Targets
This online session highlighted the work of the Digital Learning and Data for Learning working groups of the Broadband Commission. Borhene Chakroun, Director of UNESCO's Division for Policies and Lifelong Learning systems, moderated a panel discussion about the barriers and opportunities to leverage digital, data-informed technologies to support the needs of all learners, especially the most marginalized. The discussion will highlight promising practices of digital tech and data use in teaching & learning that could continue be continued beyond the pandemic. Panel speakers included:
Dr. Sonia Livingstone, representing Commissioner Baroness Beeban Kidron, 5 Rights Foundation
Ms. Zohra Yermeche, Representing Commissioner Mr. Erik Ekudden, Ericsson
Dr. Joanna Rubenstein, Former Commissioner, Former President and CEO, Childhood USA
Mr. Alex Wong, ITU, Senior Strategy Advisor and Lead, Giga, Representing ITU
Mr. Bryce David Hartley, Representing Commissioner Mr. Mats Granryd, GSMA
Composition and Activities
Chair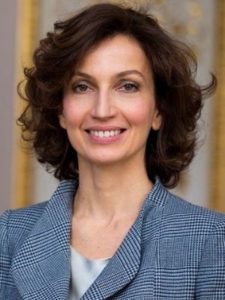 Ms. Audrey Azoulay 
Director General, UNESCO, Co-Vice Chair of the Broadband Commission
Commissioners
External Experts