Working Group Co-Chaired by:
Conclusions and policy recommendations:
Integrate Gender and National ICT and Broadband Policies.

Improve Sex-Disaggregated ICT Statistics and Measurement.

Take Steps to Boost the Affordability and Usability of ICT Products and Services.

Improve Relevant and Local Content Online.

Initiate an Action Plan to achieve gender equality in access to broadband by 2020.
Objectives of the Group:

Promote digital inclusion for women

Empower women through digital literacy training and skills building

Promote the development of gender sensitive applications (monitor violence against women, etc.) in partnership with the private sector and civil society

Foster public service delivery which takes into account the specific needs of women and their surroundings

Make technology training and jobs more attractive to young girls and women

Promote digital entrepreneurship among women to foster social innovation

Foster the protection of girls and women when they go online

Contribute to the post-2015 development agenda
​The group was set up at the Broadband Commission sixth meeting on 23 September 2012 in New York. 
Ms Geena Davis, actor, advocate and ITU Special Envoy for Women and Girls, challenged the Commission to address the issues related to women and ICTs. The Commission launched the Working Group focused on the subject and requested Ms Helen Clark, Administrator, UNDP, to be its Chair. 
The group has held 1st meeting via teleconference on 29 January 2013, when Terms of Reference for the Working Group were endorsed.
Working Group met at first physical meeting in 16 March 2013, alongside the meeting of the Commission in Mexico City on 16 March 2013.
Second physical meeting was held in New York, USA on 20 September 2013 in UN WOMEN HQ.​​
​​Press release: UN Broadband Commission releases first global report on 'broadband and gender':200 million fewer women online​
​Press release: UN Broadband Commission sets new gender target.
​​​​​Press release:​​ITU to partner with Smart Women gender empowerment and education platform.​​​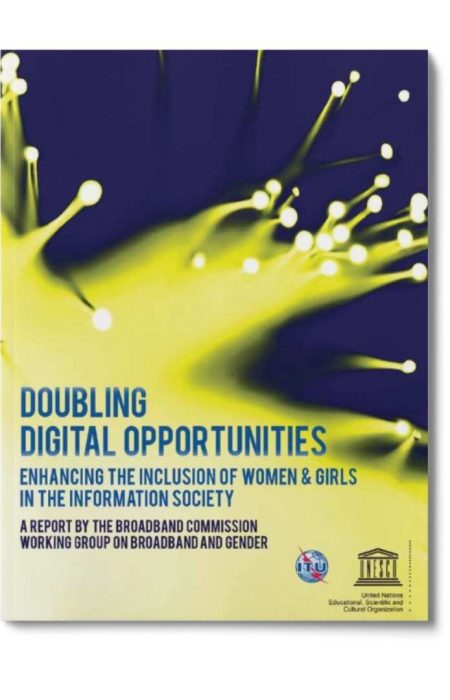 ​Doubling Digital Opportunities
Enhancing the inclusion of women & girls in the Information Society
This Report studies the role that ICTs and the Internet can play in advancing gender equality agendas, including equal access to new technologies by women and girls. It examines the central question of how access to the Internet and ICTs can help redress some of the inequalities women and girls face in their everyday lives, and whether inequalities in access to the Internet, and the types of content available online, are in fact reinforcing social attitudes towards women. It explores measures of inequality in access to ICTs, the importance of ICTs in educating and shaping the aspirations and hopes of the next generation of women and girls, and the implications of lack of access to ICTs by girls and women. By summarizing the current situation with regards to differential access to the Internet this report sketches some of the potential implications of gender gaps in access to the Internet, based on the inputs and viewpoints of the Working Group on Broadband and Gender.
​Expanding access to, and proper use of, ICTs will solve this challenge, while at the same time increasing the efficiency of school systems, improving teacher training and resources, and extending learning opportunities beyond the classroom and to disadvantaged groups. Governments – in developing countries in particular – need to explore ways to bridge the digital divide and implement policies that encourage increased investment in ICT in education. 
Hamadoun Toure, ITU
Reza Jafari, E-Development International
Jasna Matic, Serbia
Dr. Hessa Al Jaber, Qatar
Saad Bin Dhafer A;-Qahtani, STC
Amir Dossal, World Partnerships Forum
Suvi Linden, Finland
Kathy Calvin, UN Foundation
Michael Combes, Alcatel-Lucent
Irina Bokova, UNESCO
Supachai Panitchpakdi, UNCTAD
Julius Genachowski, The Carlyle Group
Paul Jacobs, Qualcomm
Paul Mitchell, Microsoft
John Chambers, CISCO
Kim Seang-tae, National Information Society Agency
Hans Vestberg, Ericsson
Speranza Ndege, Kenyarra University
Anne Bouverot, gsma
Pumzile Mlambo-Ngcuka, UN Women
Akhtar Badshah Microsoft
Margaret Chan WHO
Ann Mei Chang US State Department
Kate Cornick University of Melbourne
Geena Davis Geena Davis Institute on Gender in Media
Chat Garcia-Ramilo Association for Progressive Communications
Ann Glover Chief Scientific Advisor, European Commission
Nancy Hafkin Women in Global Science and Technology
Omobola Johnson Federal Ministry of Communication Technology, Nigeria
Sonia Jorge Alliance for Affordable Internet
Jeni Klugman The World Bank
Cheryl D. Miller Zen Digital
Amina J. Mohammed United Nations
Monique Morrow Cisco
Antonella Notari-Vischer Womanity.org
Miguel Raimilla Telecentre.org Foundation
Juliana Rotich Ushahidi
Zainab Salbi Women 4 Women Intl.
Deborah Taylor Tate Tech Needs Girls
Renee Wittemyer INTEL
Anita Gurumurthy IT for Change