Working Group on
Climate Change
How can we use ICTs for climate action towards a low-carbon economy?
The Broadband Commission's Working Group on Climate Change was chaired in 2012 by Mr. Hans Vestberg, CEO of Ericsson. The Working Group was convened to identify how broadband investments could best be leveraged from a climate perspective. The resulting 2012 Report includes an analysis of the contemporary landscape of information communication technology (ICT) enabling, including government leadership, involvement by the private sector and other stakeholders, as well as a road map and recommendations for further action. 
Broadband as a Tool for Sustainability
Broadband Boosts Economies and Sustainability Initiatives
The Working Group's 2012 Report pointed to 2009 data from the World Bank, which indicated that, for high- income countries, a 10 percent rise in broadband penetration adds a 1.21 percent rise in economic growth, and 1.38 percentage for low- and middle- income countries. 
Not only is broadband development economically efficient for all countries, but it also has huge potential to help shift the world towards a low-carbon economy and address the challenge of climate change. In addition to Gross Domestic Product (GDP) growth and job creation, broadband expansion can deliver vastly enhanced energy efficiency, mitigation, adaption, and real-time monitoring and emergency response. 
Monitoring is Necessary to Ensure Sustainability
Broadband development can enable more sustainable economic practices globally. However, it remains vital to quantify and monitor the environmental load caused by ICTs, including consumption of energy, consumption of natural resources, and generation of waste. As ICTs are employed to reduce climate change, the ICT sector must also work to be as environmentally stable as possible. The environmental load reduction achieved by ICT must outweigh the environmental load caused by ICT in order for practices to be sustainable, as demonstrated in the graphic below: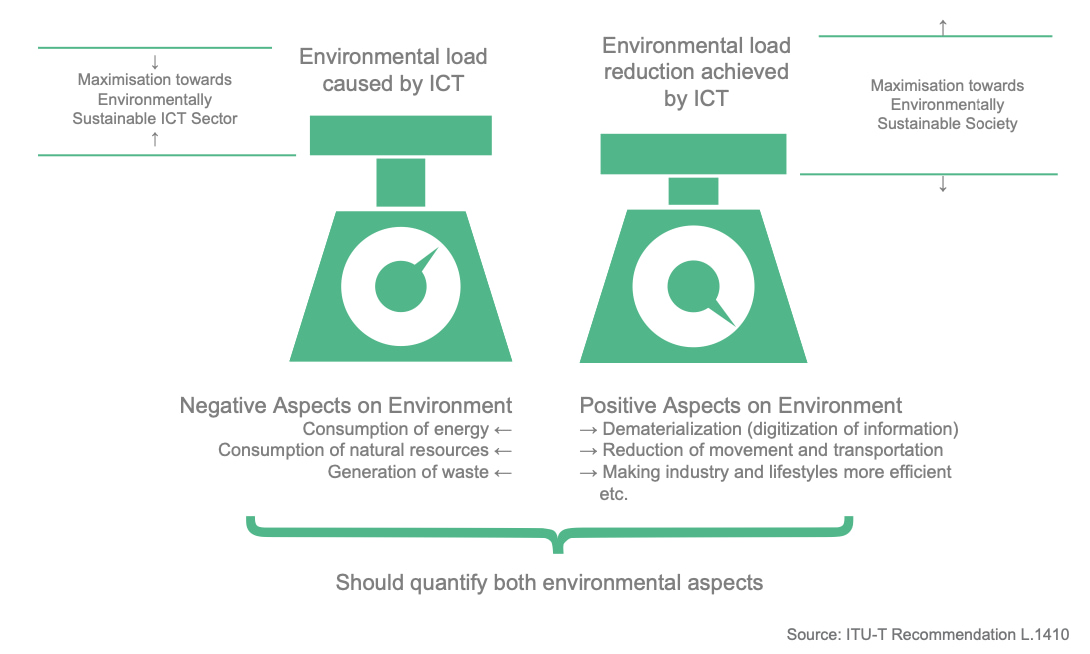 Conclusions and Recommendations
A lack of awareness about ICT and broadband's enabling role is a key challenge going forward. Policies and strategies will need to consider how to influence individual behavior and raise awareness to enhance the uptake of broadband-enabled low-carbon solutions among consumers worldwide.
With sound leadership, open and competitive markets that recognize broadband as essential infrastructure and encourage the development and scaling up of solutions will deliver the greatest impact.
The Working Group's 2012 report, The Broadband Bridge: Linking ICT With Climate Action for a Low-Carbon Economy, identified three vital roles that broadband can play in key areas related to climate change, including:
Transformation: helping other sectors of society to reduce GHGs through dematerialization of physical products and systems, for example, substituting travel with collaborative tools or substituting need to produce physical products by delivering e-products and services
Climate Mitigation: reducing the sector's own emissions, often referred to as Greening ICT, for example, specific efforts to cut emissions of greenhouse gases within the ICT industry itself, such as developing energy lean products and solutions, setting and delivering on tough reduction targets
Climate Adaptation: changes in processes, practices and structures to reduce the vulnerability of natural and human systems to climate change effects. Broadband can provide viable solutions, for example, weather information and disaster alerts.
Following an overview of nine pioneering digital practices and six government case studies, the 2012 Report presented ten thoughtful and informed recommendations for how to spur the kind of change that will result in a bold approach to unleashing broadband's potential to create a networked, low-carbon society of the future.
Composition and Activities
Chair
Commissioners
External Experts
Chair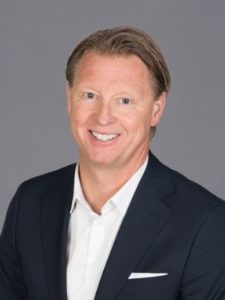 Mr. Hans Vestberg 
Chief Executive Officer, Ericsson
Commissioners
External Experts
The Working Group, was launched in Barcelona, Spain on 16 February 2011.  The group held three meetings via teleconference on 31 March, 30 May and 4 October 2011.
Mr. Hans Vestberg




CEO, Ericsson
Broadband Advocacy Targets