Working Group Chaired by:
The growth of data, their socio-economic implications and their integration in the lives and work of most people everywhere is spurring the data revolution. Industry 4.0 is transforming manufacturing industry into a new paradigm in particular regarding data ecosystems and potential and given rise to new information industries (e.g. cloud computing, 3D printing or the Internet of Things), changed how services are produced and delivered and even affected agriculture and farming. Social sectors such as education, health and social security are following suit.
However, the usage of data in education is double-edged sword. On the one hand, they offer tremendous potential to create value by improving policies and programs, driving transparent governance and better management of education systems, teachers' empowerment, personalized learning experience, assessment, and certifications. On the other hand, data in education may be misused in ways that harm learners. This concerns learners' data protection and security, learners' data transfer and sharing, and the sharp increases in the amount of personal information gathered by tech and ed-tech businesses. The gaps in learners' data protection and security are part of the broader digital divide.
Objectives of Working Group:
The Working Group Members will advise on challenges and opportunities related to including: (i) Data infrastructure and ecosystems; (ii) Data skills and competence framework for life and work; (iii) Ethic, governance, national sovereignty and cross-border data flow regulation. The aim is to benefit from the unique composition of the Commission and its expertise and perspective of the top/key players in the Technology industry, policy makers and IGOs and to engage with all relevant stakeholders and sharing knowledge about other existing resources and initiatives.
1. The Group was launched during the virtual Broadband Commission Annual Fall Meeting in September 2021.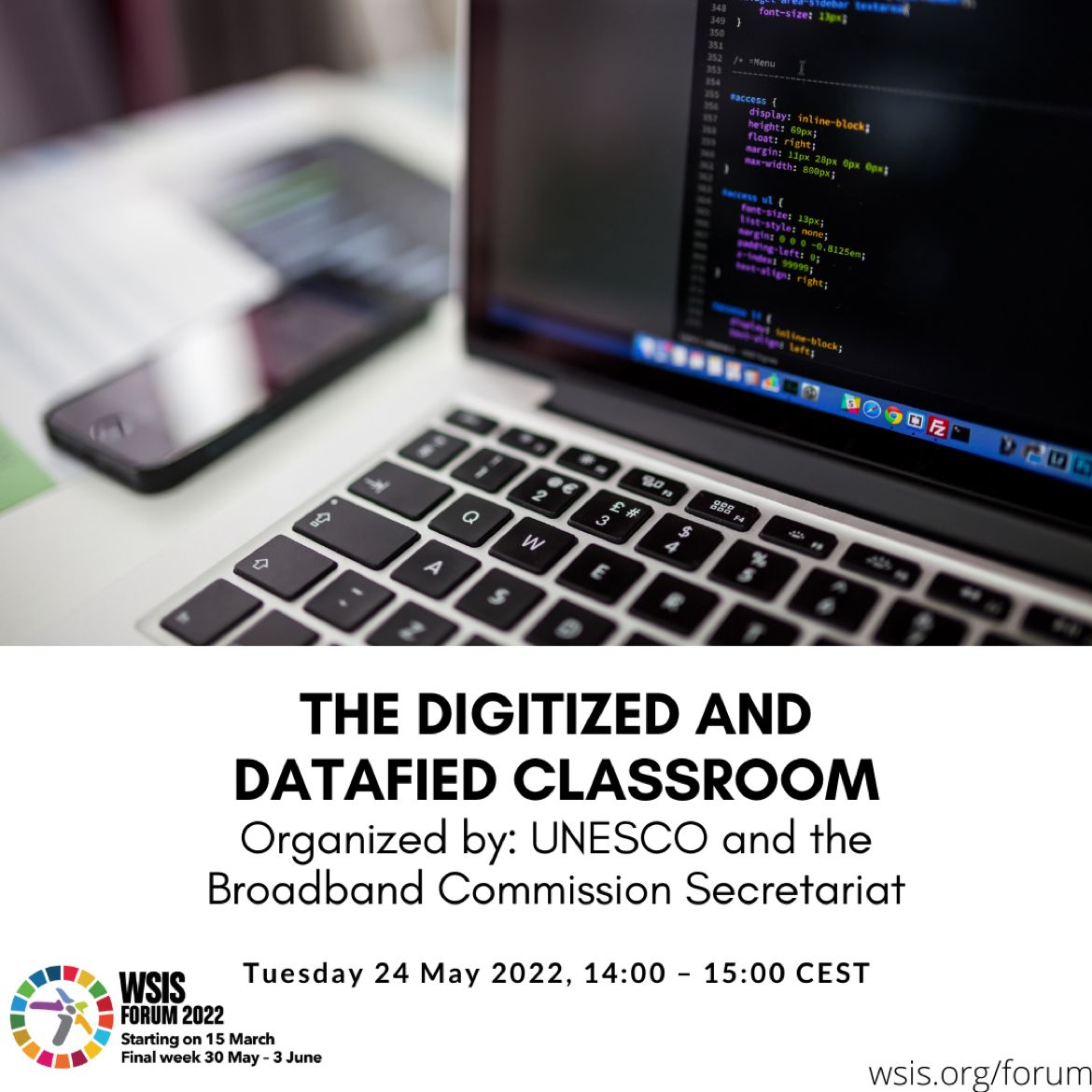 WSIS 2022 Session: The Digitized and Datafied Classroom
This online session will highlight the work of the Digital Learning and Data for Learning working groups of the Broadband Commission. The event will be moderated by Borhene Chakroun, Director of UNESCO's Division for Policies and Lifelong Learning systems, followed by brief presentations on hybrid learning and financing digital technology in education by UNESCO experts Valtencir Mendes (UNESCO, Santiago) and Paula Razquin (UNESCO, Paris). Then, Mr Chakroun will moderate a panel discussion about the potential benefits and risks of leveraging digital, data-informed technologies to support all learners, including the most marginalized. Panel speakers include:
Dr. Sonia Livingstone, representing Commissioner Baroness Beeban Kidron, 5 Rights Foundation
Ms. Zohra Yermeche, Representing Commissioner Mr. Erik Ekudden, Ericsson
Dr. Joanna Rubenstein, Former Commissioner, Former President and CEO, Childhood USA
Mr. Alex Wong, ITU, Senior Strategy Advisor and Lead, Giga, Representing ITU
Mr. Bryce David Hartley, Representing Commissioner Mr. Mats Granryd, GSMA
Dr. Tedros Ghebreyesus, WHO
Baroness Beeban Kidron, 5Rights Foundation
Mr. Lacina Koné, Smart Africa
Dr. Jeffrey Sachs, Columbia University
Professor Mercedes Aráoz, Peru
Dato Lee Yee Cheong, ISTIC
Mr. Amir Dossal, Global Partnerships Forum
Mr. Bocar Ba, SAMENA Council
Mr. Erik Ekudden, Ericsson
Mr. Achim Steiner, UNDP

Dr. Rumman Chowdhury, Parity Responsible Innovation Fund

Dr. Qu Dongyu, FAO

Mr. Mauricio Ramos, Millicom

Mr Piotr Dmochowski-Lipski, Eutelsat IGO

Ms. Sima Sami Bahous, UN Women
Ms. Maria Florencia Ripani, Fundación CEIBAL
Mr. Dale Allen, DXtera Institute/ EdSAFE AI Alliance
Ms. Kati Tiainen, Microsoft
Dr. Carol O'Donnell, Smithsonian Science Education Centre
Ms. Ellen J Helsper, London School of Economics
Mr. Wayne Holmes, UCL Institute of Education
Mr. Mutiu Cukurova, University College, London
Mr. Niall Winters,

University of Oxford

Ms. Sonia Livingstone, London School of Economics
Mr. Alexandre Barbosa, UNESCO
Mr. Fabio Senne, Cetic.br
Mr. Werner Westermann Juárez,

Programa de Formación Cívica, Chile

Ms. Carmela Salzano, GPE
Prof Amit Prakash,

Centre for IT and Public Policy, International Institute of Information Technology (IIIT) Bangalore

Ms. Karine Sonigo, ILO
Mr. Ashok Goel,

AI-ALOE

Ms. Joanna Rubinstein,

World Childhood Foundation

Mr. Shiloh Naiken, Department of Basic Education, South Africa
Ms. Tracey Burns, OECD
Professor Manolis Mavrikis, UCL
Mr. Doug Casey, Connecticut Commission for Educational Technology