Working Group on Sustainable Development and the
Post-2015 Development Agenda
How can we best harness ICT as a catalyst for sustainable development?
The world faced a crucial juncture as the fifteen-year period dedicated to confronting the world's persistent problems of poverty, malnutrition, chronic disease and lack of education through the Millennium Development Goals (MDGs) neared its completion in 2015. 
In March of 2013, the Broadband Commission's 2013 Working Group on Sustainable Development and the Post-2015 Development Agenda was established with the understanding that improved communication and greater understanding facilitated by access to ICTs could help overcome the challenges inherent in building the global digital economy. Chaired by Mr. Hans Vestberg, President and CEO of Ericsson, the Working Group acted as a consultation group to provide of advisory and advocacy guidance for the implementation of key projects related to initiatives of the Commission. The Working Group's resulting 2013 Report examines the role broadband and ICT can play as transformative solutions to achieving sustainable development for all.
ICT and Broadband Enable Solutions
Broadband is uniquely positioned to deliver integrated solutions to a wide variety of issues that we face on a global scale. Information communication technologies (ICTs) and broadband can enable improvements in speed and scale in implementing solutions that can improve living standards, social fairness, and environmental sustainability, as well as drive down costs and improve service delivery. 
Nations around the world have become increasingly aware of the potential of broadband infrastructure, and have therefore increasingly created national broadband plans, as shown by this graphic included in the Working Group's Report: 
Number of Countries with National Broadband Plans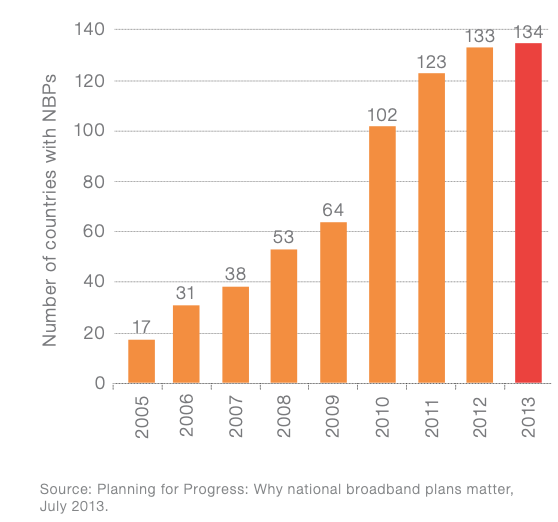 The Emergence of A Global Digital Economy
A global digital economy is a worldwide network of economic activities, commercial transactions and professional interactions that are enabled by ICTs. As the global community becomes more dependent on digital technology and digital communication, it will be increasingly essential to thoughtfully include all countries in the opportunities afforded by broadband and ICTs so that no one is left behind. 
Infrastructure Development Needs to Be More Inclusive
Much more needs to be done to realize the full potential of broadband and ICT—not least to reach people in marginalized or disadvantaged groups, or more remote locations, who are too often left behind. 
Innovative, scalable multi-stakeholder solutions are needed to deliver inclusive economic growth and a shift to sustainable patterns of consumption and production. The world needs to adopt a more integrated and comprehensive approach to development – and ICT and broadband can make a major contribution to this effort. 
Conclusions and Recommendations
The Working Group's 2013 Report, Transformative Solutions for 2015 and Beyond, examines the key role broadband can play in confronting the global challenges of the time, and building a sound and sustainable future which following generations could enjoy. Its central finding was that connectivity is necessary, but not sufficient in isolation. In addition to the roll-out and deployment of broadband networks and technologies, the Report found it was also essential to develop fully multilingual content and new services to ensure people can express themselves freely and develop a presence online, with full respect for human rights.
For this to happen, a strong enabling framework is required. Governments can accelerate the pace of transformation by linking their development polices to make universal broadband accessible and affordable to all, in order to meet their national development and poverty reduction goals. Policymakers are urged to take timely action to create this framework by acting on the report's ten recommendations.
The Ten Recommendations of this Working Group's Report:
Open Letter to the UN Secretary General
Composition and Activities
Chair
Commissioners
External Experts
Chair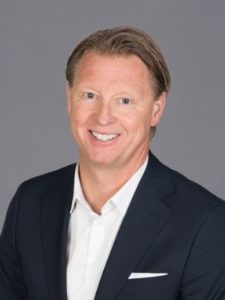 Hans Vestberg 
President and CEO, Ericsson
Commissioners
External Experts
The group, chaired by Mr. Hans Vestberg, President and CEO, Ericsson, was launched in 2013. The group held three meetings via teleconference and onsite in New York. 
Hans Vestberg




President and CEO, Ericsson
Broadband Advocacy Targets