The Broadband Commission collaborates with a variety of partners to advance our work and fulfill our mission of bringing Universal Connectivity to the top of the global policy agenda. Below is a sample of organizations we have worked with to advance this goal:
Through the engagement of the Commissioners and their teams, the Broadband Commission fully leverages the expertise and the intellectual capital of its collective membership. The Commission bases its work in the following principles:
Inclusivity & Equality
We are open, inclusive and respectful in our engagement, aiming to be representative of all communities. We believe that access to safe and strong broadband connection is fundamental to sustainable and equitable global development.
Innovation
We commit to seeking practical and pragmatic ideas and solutions to relevant, complicated and multi-faceted challenges, utilizing the ingenuity and innovative spirit of our diverse membership.
Collaboration
We recognize that everyone needs to be present at the table to create practical and pragmatic solutions to global issues, to support this we facilitate these conversations among the private sector, governments and civil society.
Continuous Learning
We understand that as the world evolves so do its needs and values. As a Commission we commit to continuously reevaluating our actions and goals so that they reflect the needs of the global community.
Accountability
We take responsibility for being as forward-thinking as possible in both our research and proposed solutions. We count on the subject-matter expertise and diversity of our high-level Commissioners to provide leadership and accountability in all outputs of the Commission.
The Commission at a Glance
Commission Composition and Working Processes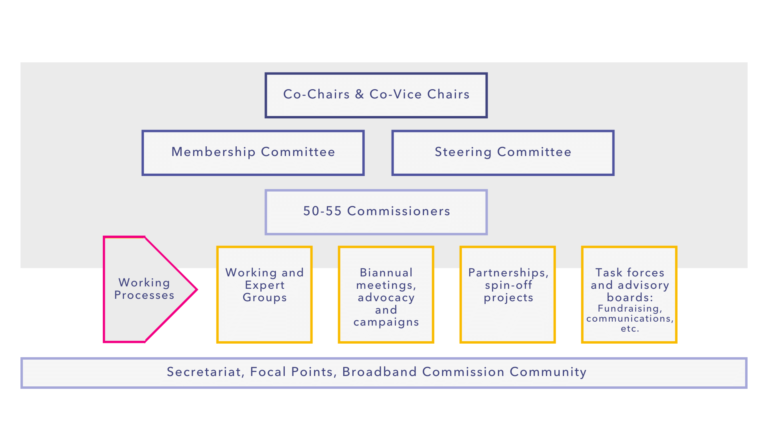 The size of the Commission is between 50 and 55 Commissioners.

New Commissioners are executive level representatives. 

The term of a Commissioner is 4 years.

The Commission strives to have a balanced representation across a variety of stakeholders.

Under normal conditions, Commissioners will attend, in person, at least one of the Broadband Commission bi-annual meetings (Spring & Fall Meeting).

The Commission uses a consensual/unified approach as the mechanism to reach and endorse its collective decisions (for example with the outcomes of the Working groups, the advocacy position papers, recommendations of the State of Broadband report.

A suitable and practical number of Working Groups is defined annually, with four being best practice, according to the workload of the Commission on relevant matters and subjects of importance for the Commission.